The headaches, facial pain, and other symptoms of a TMJ (temporomandibular joint) disorder can be agonizing.
Unfortunately, many sufferers do not realize the relationship between their bite and these painful symptoms of TMD.
Dr. Timothy Kelly in Albuquerque, NM, is an expert in this area who can correct your bite in a way that helps you achieve lasting relief...
The temporomandibular joints connect the jawbone to the skull. There is one temporomandibular joint located on each side of your face. These jaw joints are complicated structures that involve interactions with bone, cartilage disks, facial and cranial muscles, and nerves.
A TMJ disorder (TMD) refers to a dysfunction that affects the normal movement and use of the jaw. The term "TMJ disorder" can actually refer to several conditions that cause pain and inflammation in the temporomandibular joints and surrounding tissues. Temporomandibular joint disorders can make it difficult to bite, chew, speak, and make certain facial expressions.

TMJ disorders are more common than you think...
According the the U.S. Department of Health and Human Services
Symptoms of a TMJ Disorder
What Are the Common Signs?
Temporomandibular disorders can have many different symptoms. Some of the most common symptoms people experience when they suffer from TMD include:
Popping or clicking when closing or opening the mouth
Stiffness or locking of the jaw
Fatigue of the facial muscles
Jaw pain or soreness
Damaged teeth
The interaction of the jaw joint with different muscles, nerves, and surrounding structures of the cranium can also lead to:
Tension headaches
Migraines
Eye pain
Blurry vision
Dizziness
Ear pain
Ringing in the ears (tinnitus)
Sore neck and shoulders
If you experience any of these symptoms of a temporomandibular disorder, be sure to speak with a dentist as soon as possible.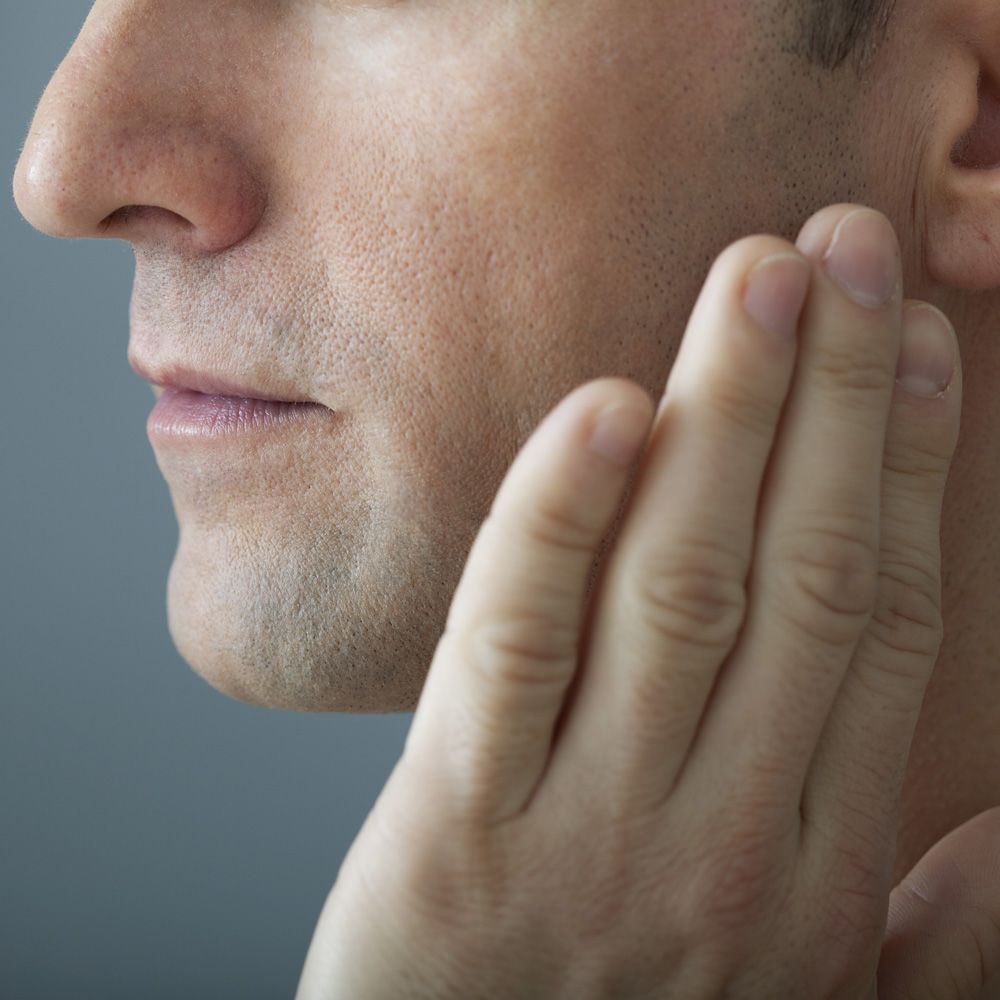 Anxiety and depression
Sleep apnea
Chronic pain conditions such as fibromyalgia
Extensive dental treatments
Gender (TMD is more common in women)
Do You Suffer from TMD?
Book Your Consultation Today
If you experience any symptoms of temporomandibular joint disorder (TMD), it's crucial that you visit a dentist for proper diagnosis and treatment. It is possible that dental health issues are causing a disruption in your bite and the normal function of the jaw.
Since 1981, Dr. Kelly has dedicated extensive time and resources to becoming a TMJ disorder expert. He can provide an accurate diagnosis and determine if his treatments can help you. If your needs are more complex, he can refer you to another trusted physician who can explore other treatment options.
To begin your journey toward relief and a better quality of life, send our practice a message online or give our office a call at:
"Always Happy, Polite, and Respectful."
Quality Dental Care in Albuquerque, NM
Always on time, professional, friendly, and using latest tech for pain-free visits.
View On Google
Love that the Dr. and staff are always happy, polite, and respectful. Wonderful environment!
View On Google
Individualized Treatment for TMJ Problems
"The Results Can Literally Last a Lifetime."
Treating TMJ Issues
Three Primary Steps
TMJ is a complex condition, and no two cases are exactly alike.
If a series of diagnostic tests at
our Albuquerque, NM, office
reveal that your TMJ discomfort is the result of a misaligned bite, your treatment plan could involve:
Natural Pain Relief
If you experience symptoms of a temporomandibular disorder, it is best to avoid overuse of the jaw muscles by eating soft foods, cutting food into small bites, and avoiding chewing gum and other chewy or sticky food. Ice and OTC (over the counter) ibuprofen are the first recommended treatments for acute pain in or around the TMJs. We try to avoid using pharmaceuticals at all costs.
Splint Therapy
If a bite discrepancy is discovered,
Dr. Kelly
might suggest
an orthopaedic splint to align and stabilize the mandible (lower jaw)
. This is a diagnostic tool that initiates healing, and patients often begin to feel an improvement soon after they start using it. Many notice a decrease in headaches and neck pain, and say that they sleep better. It usually takes eight to 12 weeks of full-time splint wear to allow your body to adapt and get to a stable joint position of the TMJs.
Permanent Treatment
Permanent treatment to maintain this ideal jaw position can now be discussed. By having an understanding of how the healthy chewing system functions, we can design a specific plan to maintain your health and comfort. This may include orthodontic treatment, adjusting the bite, and repairing any damaged teeth. Surgery is usually not necessary, and is typically only warranted in acute injury situations such as whiplash.
If you experience TMJ pain or any TMD symptoms, a thorough diagnostic process by a trained dentist is a must. By using a variety of diagnostic tools, Dr. Kelly is able to understand the complexity of each patient's case, leading to accurate diagnoses and custom treatment of the temporomandibular joint and surrounding structures of the cranium and jaw.
Get the TMJ Treatment You Need
Speak with a TMD Expert
Clenching, grinding, trauma, and other factors can have a negative effect on the health of your temporomandibular joints. Dr. Kelly has the experience and the technology to accurately diagnose and treat TMJ problems.
To speak with a TMJ expert about your symptoms and possible treatment options, we encourage you to contact our practice online or call our office in Albuquerque, NM.
Give Us a Call Today
"I've Been Going to Dr. Kelly for 34 Years."
A dentist deeply committed to Albuquerque, NM
Excellent care and bedside manner. Great staff also. Highly recommend!
View On Google
I've been going to Dr. Kelly for 34 years. He is a very good dentist. Melissa, the hygienist is excellent also!

I refer them when asked!
View On Google
Keep in mind that the key to successful TMJ treatment is not the materials or technology - it's the education and experience to understand the problem and develop a pathway to health. Dr. Kelly in Albuquerque brings 40 years of dental health experience to each patient, and has an in-depth knowledge of the anatomy of the TMJ.
As an expert in TMJ dysfunction, Dr. Tim Kelly in Albuquerque, NM, is uniquely qualified to help you find a solution that can provide long-term relief. Possible treatments that
our practice
can provide for this complex condition can include:
Biologic Orthopaedic Positioner
This device, also called a splint, isn't a treatment per se; instead, it is an important means of finding the proper position of the lower jaw. This custom device fits comfortably over the teeth to gently reposition the jaw and relieve strain on the TMJs. It is regularly adjusted over the course of two to three months to find the ideal jaw position. Once Dr. Kelly determines the correct position, he can recommend treatments that will help to achieve a permanent change that no longer requires wearing the splint device.
Corrective Dental Treatment
Corrective dental treatment that improves the bite and its relationship to the TMJs can only be attempted after a correct diagnosis is established and proven as the cause of the symptoms. This type of TMJ treatment is considered non-reversible and may include braces and other orthodontic treatments, adjusting your bite with the use of restorations such as dental crowns, and replacement of tooth form using crowns, bonding, and other restorative dentistry solutions.
Custom Nightguard
If you suffer from bruxism, Dr. Kelly may create a custom nightguard for you to wear while you sleep. A night guard is a simple plastic retainer that is molded to your teeth. The nightguard prevents direct contact between the upper and lower dental arches. This reduces the strain on the jaw joint if you clench your teeth during the sleep. The nightguard also reduces the wear and tear on your teeth caused by bruxism. Nightguards may be used in combination with other TMD treatments.
Jaw Surgery
Surgical intervention is usually only necessary in very complex cases that cannot be resolved with more conservative solutions. If Dr. Kelly determines that he cannot provide lasting TMJ relief through solutions such as orthodontics or custom restorations, he can refer you to trusted colleagues who can help determine if surgery is absolutely necessary.
A Five Star Dentistry Experience
Patient-Centered Care for the People of Albuquerque, NM
This is a very professional office with a kind, caring staff and doctor. I recommend it highly.
View On Google
Today I had work done. I am thankful to Dr. Timothy Kelly and his very efficient assistant for the congeniality and professionalism displayed. Then again, these traits are always evident in all my visits with Dr. Kelly. Thank You!
View On Google