What to Expect at Your Next Dental Exam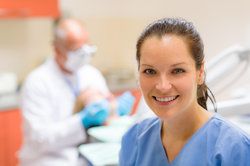 When it comes to dental care, many people throughout the greater Albuquerque area put their trust in Dr. Timothy M. Kelly. Dr. Kelly offers the latest in advanced dental treatments. This means the most advanced general dental care procedures as well as state-of-the-art restorative dentistry to improve your dental health and cosmetic dentistry to enhance smile aesthetics.
When it comes to providing good treatment, however, it does come back to the basics: regular checkups at the practice.
Routine Dental Exams Are a Cornerstone of Dental Wellness
If you want to have a smile that's healthy and beautiful and would like for this dental wellness to last, it's important that you visit your dentist twice a year. By undergoing regular checkups, you will be able to have basic maintenance performed as well as advanced therapies, ones that go beyond the brushing and flossing that you do on your own at home.
Here are a few of the things that you can usually expect the next time you stop in for a regular dental visit.
X-rays and Dental Diagnostics
When you visit the dentist, getting x-rays taken is common practice. These x-rays will allow our team to determine if there are any pressing needs that have to be addressed, such as serious chips and cracks, major decay, or other kinds of structural problems not readily apparent.
Routine Flossing, Polishing, and Dental Cleaning
In addition to diagnostics, patients will undergo a full flossing and professional polishing at the practice. This will allow all of those hard-to-reach places of a person's smile to be cleaned thoroughly. With younger patients, a fluoride treatment is rather routine following the cleaning.
Full Examination of Your Teeth and Gums
While the x-rays will help identify structural issues that cannot be seen by the naked eye, your dentist will also do a normal check of your teeth and gums, noting potential decay, recession, malocclusion, and other issues that you may be dealing with.
A Chance to Discuss Your Current Dental Health Concerns
Dental visits should provide you with an opportunity to speak about your concerns with a professional. Be sure to mention any issues that you may be experiencing with regard to pain, discomfort, or difficulties with other dental health matters. Even something as simple as dry mouth or bad breath may be the sign of another more serious dental care matter.
Tips on Improving Your Dental Health at Home
In addition to discussing your dental health concerns, your dentist will often provide you with some tips for improving your dental health at home. This may involve ways of enhancing your dental hygiene or certain dental products to be on the look out for. These tips can turn a good smile into a great one.
Discussion About Future Dental Treatment Plans
Each dental visit isn't just about addressing current concerns, it's also about figuring out what's best for your dental health going forward. Expect to discuss any future treatment plans or treatment needs with your dentist at some point during your visit. This will help you learn what's in store when you stop by the practice the next time.
Schedule a Consultation at Our Dental Care Center
To schedule a dental visit or to learn more about various topics related to overall dental health and wellness, be sure to contact our cosmetic and restorative dentistry center today. Dr. Kelly and the entire dental care team look forward to your visit and helping you achieve excellent dental health and total wellness.
Related to This